Welcome to North Central Florida Society for Human Resource Management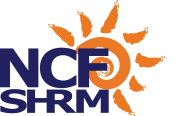 The North Central Florida Society for Human Resource Management is a nonprofit organization of human resource professionals from Gainesville and its surrounding communities.
Affiliated with the Society for Human Resource Management, an international organization of more than 250,000 members in more than 140 countries, NCF-SHRM provides you with the information you need to make today's decisions regarding human resources issues.
As a member, you will gain access to a variety of sources of information to solve your HR challenges, plus gain the opportunity to network with your professional peers.
NCF-SHRM helps you expand your professional competence and maintain your standards of excellence in the human resource field. In an effort to create an environment of growth and sustained members, we welcome you to explore opportunities to serve as board members and to develop leadership, managerial, public speaking, and group decision-making skills.

NCF SHRM Membership Info:
Annual Regular NCF SHRM Membership, $70; with National SHRM, $50;
First Time Visitors are FREE; Returning Guests/Non-members pay $20 per meeting.
Students: Annual Regular NCF SHRM Membership, $ 30; with National SHRM, $20
A special Thank You to our 2014-2015 Corporate Sponsors!
Upcoming Events
See All >
February 17, 2016 (All day)

to

February 18, 2016 (All day)

Location:

Hotel Duval 415 N Monroe Street Tallahassee, FL 32301

March 10, 2016 -

5:30pm

to

7:00pm

Location:

We will be meeting at NCCER in Progress Park – thank you to our Treasurer, Debbie Puckett, for hosting this event and there will be food and fun provided! NCCER is a not-for-profit 501(c) (3) education foundation created in 1996 as The National Center for Construction Education and Research and is located at: 13614 Progress Boulevard, Alachua, FL 32615 you can find out more about who they are and what they do at their website www.nccer.org.

Are you ready to share your ideas and experiences in the Workplace Wellness arena with your HR partners and come away with a few new ideas!? Please join us in a lively discussion…amongst ourselves – with some very special local leaders – to discuss topics related to Workplace Wellness! Take this opportunity to meet...